This week I would love to introduce you to the fabulous Lizzie King AKA Lizzie Loves Healthy – Nutritional Health Coach, Author, Business owner and Mother of three. She creates food to keep us well and I love her take on nutrition for being easy and effective.
She founded Lizzie Loves Healthy, her mega successful blog, to make eating nutrient dense food as delicious as possible for families. In 2017 she published her best-selling cookbook, Lizzie Loves Healthy Family Food. She has spent the last 10 years working with hundreds of families and companies sharing her knowledge and passion for food and nutrition, by teaching classes, holding workshops and creating recipes.
In 2020, she launched Lizzie Loves Inc. – A range of award-winning natural remedies born of her desire to keep children's health at the optimum at all times. When she couldn't find what she wanted, she made them herself, for everyone to be able to use and to make your children stay well.
During January we will be collaborating to bring both of our subscribers some bonus treats to get through the dark days of January. So to kick things off this week I have a few of my top picks of Lizzie's delicious recipes for you to try. I have picked some proper winter warmers to warm you from the inside out on these very chilly winter days. 
First up is her warming chorizo, lentil, butter bean and red pepper hot pot – perfect for a weeknight supper.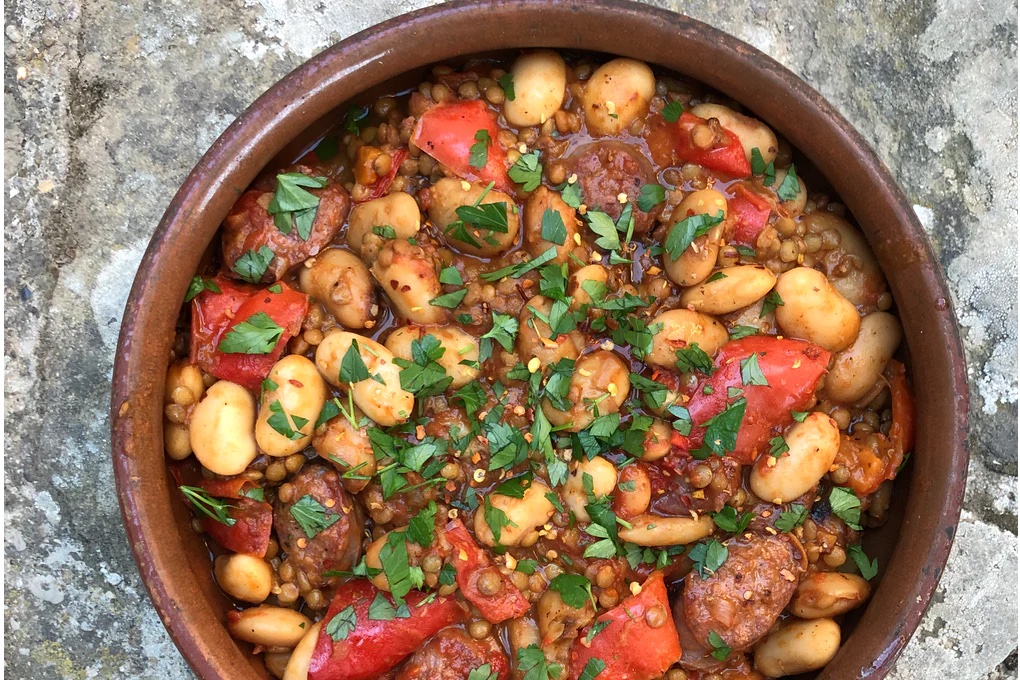 Ingredients: 
1 red onion, chopped

1 carrot, chopped

1 red pepper, sliced into 1 inch pieces

1 clove garlic, minced

Chorizo, sliced on the diagonal in 1 inch thicknesses

1 tin butter beans

200g red lentils

2 tbsp tomato purée

500 ml chicken stock

Oil, salt and pepper.

Fresh parsley, stalks removed and chopped chillies and baguette to serve
Heat the oil in a large, heavy bottomed casserole dish, add the garlic, onion, carrot, red pepper and 1 tbsp of parsley stalks, on a low heat for 5 minutes until softened. Turn the heat up, add the chorizo and fry for a further 5 minutes. Add the red lentils with the butterbeans, and their water, tomato purée plus 500 ml stock, stir to combine and bring to the boil. Turn down to a gentle simmer, partly covered until lentils are cooked through, approx. 15-20 minutes, adding more water if needed. Serve with warmed baguette and butter, chilli and parsley as required.
Next I have chosen her smoky 3 bean chilli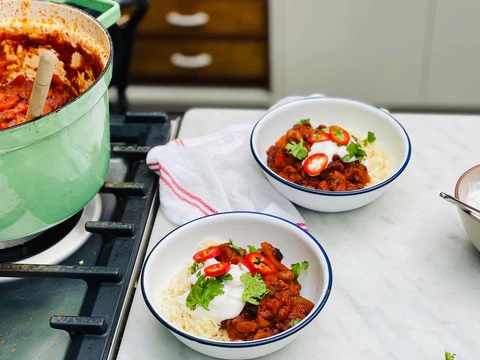 Such a comforting bowl that happens to have 9 of the magical fibre rich plants. Three beans for a dual protein and fibre addition which is so key in a velvety bed of slow roasted red peppers, carrots and onions with some warmth but not too much heat from the cumin and chipotle.

Serve it with some fluffy brown basmati rice, a dollop of yoghurt and fresh coriander. Make more than you need. This keeps in the fridge for up to a week and freezes really well too. And can be reimagined loaded with cheese as a filling for tortillas and wraps later in the week.
Ingredients:
2 tbsp olive oil




1 large Red onion




3 cloves garlic finely chopped




2 carrots




1 celery stick




1 red pepper, de-seeded and diced into ½" pieces




1 tsp sweet smoked paprika




½ tsp chipotle paste




3 tins plum tomatoes




1 tin Red Kidney Beans (or 1 Cup dried, soaked for all the

beans)




1 tin Black Beans




1 tin Pinto Beans




200 ml chicken or vegetable stock




Few sprigs fresh coriander




Dollop of Coconut Yoghurt to garnish




Fresh red chilli for those in need
In a large cast-iron pan, heat the oil on a medium heat and sauté the onion and garlic for a couple of minutes before adding the rest of the chopped vegetables. Carrots, celery and pepper should be stirred in, and the paprika and chipotle paste added as well, stirring now and again, let them soften for 10 minutes.
Tip in the tomatoes and break them up a bit with the back of your wooden spoon, adding in the stock once you've swirled it round the tins to get the last of the juices out.
Turn the heat up to high and bring to the boil. Once it is all bubbling, turn the heat back down to low and let it simmer gently for 45 minutes. Add in all the rinsed beans, with the coriander stalks, and bring to the boil. Season with some sea salt and black pepper to taste and let it simmer gently for 30 minutes.
Add the tomato puree and another dash of stock if it is looking dry and continue bubbling for another 30 minutes, or until lentils and beans are soft. 
Spoon into bowls either as is, or on rice, with a blob of yoghurt and a scattering of torn coriander. 
Finally, I thought you would love Lizzie's game pie with mustard crust – a real Sunday lunch favourite.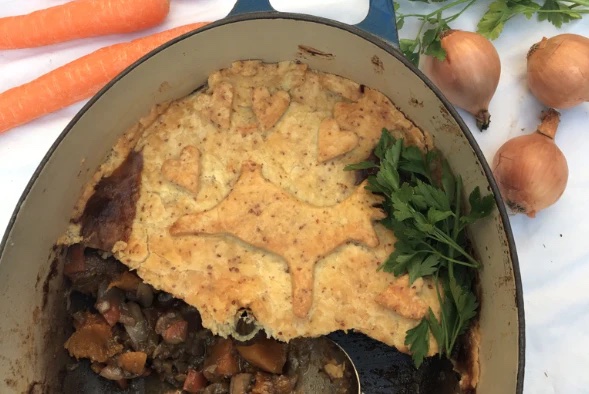 Pastry ingredients
200g gluten free flour

1 tsp xanthan gum

1 tsp salt

1 egg yolk

100 butter, cubed & cold

1 tbsp mustard

3 tbsp water
Filling ingredients
3 Tbsp of olive oil

2 onions, sliced

2 garlic cloves, crushed

1 leek, thinly sliced

2 carrots, diced

2 celery sticks, thinly sliced

2 sprigs fresh thyme

250g mushrooms, sliced

1 small squash, peeled and in 2 cm cubes

250ml chicken stock

250ml red wine

3 Tbsp corn flour

pinch salt

pinch pepper

500g game, mixed or plain venison
Peel and dice the butternut squash into 2cm pieces, tip into a lined baking tray. Drizzle over some olive oil and a pinch of salt. Roast for 40 minutes at 180C. Add a slug of olive oil to a casserole dish on medium heat. Tip in the sliced onions, garlic, leeks, carrots, celery and heat for 10 minutes. Add the mushrooms and sauté, stirring for another 5 minutes. Place the game meat in a bowl with the corn flour, salt and pepper and toss with your hands to coat. Turn the heat up, and push the veg to one side. Add the meat to the casserole dish and sizzle for 3 – 5 minutes, to brown. Pour in the red wine and chicken stock. Turn heat down to low, put the lid on, and simmer for 30-60 minutes until meat feels tender to the fork. Tip in the roasted squash and stir together. Meanwhile make the pastry. Pour the flour, egg, salt, xanthan gum, mustard and cold butter into a food processor. Pulse carefully until a sandy texture. Then carefully drizzle in the water, with the motor running, until the mixture forms a ball. Wrap in cling film and place in the fridge for 30 minutes. Place the pastry between two sheets of cling film ( gf pastry can be fragile, ignore if using regular flour) and roll out evenly into required shape to top your dish. Place over the top of your casserole and pinch at the edges. Brush with some milk or egg yolk. With extra pastry you can make a deer/cookie cutter decoration on top. Bake in the oven at 170c for approx 30 minutes until a beautiful golden colour with some juices bubbling up at the edges.
Check out all of Lizzie's fab recipes here and don't forget to use code caroline20 if you are browsing her brilliant items in the shop! Happy cooking!
Caroline x