Due to popular demand I have decided to include a Kettlebell workout tomorrow (Thursday) in this week's online classes! Do you use one in your training at all? Here's a few reasons why I love them!
1. They are SO versatile! Perfect for all aspects of your training be it Strength / Cardio / Power!
2. They build all round full body strength – recruiting many muscle groups at once, excellent for functional fitness training
3. They suit both high and low impact workouts – raising the heart rate and burning calories but equally kind on the joints. KBs are excellent HIIT training tools, great for fat loss if that is your goal by increased recruitment of muscle fibres. Challenging the body and increasing cardiovascular fitness
4. Fantastic for improving core strength and stability – they change your centre of gravity and recruit the abdominal muscles much more than in many dumbbell exercises.
5. Many KB exercises are unilateral which have huge benefits in themselves – increasing muscle stimulation, correcting imbalances, improving weaknesses
6. Brilliant for improving posture – strengthening the posterior chain which in turn will help with reducing injury risks
7. There are some great dynamic movements with KBs too, which are really effective in promoting joint health and strength.
8. Not to be forgotten is the increased range of motion with certain KB exercises – they can be a huge help with improved flexibiity and mobility.
9. KBs increase our grip strength!
10. A power routine with a KB is a great stress buster – swing cleans, snatches, squats all require focus and technique and really help with the feel good factor that strength training brings!
So these are just a few of the benefits. Tomorrow's class at 9am will take us through some fundamental kettlebell exercises. Use my code destress20 at the checkout to join us and try for yourself!!
Just in case you're wondering…this is what this week's schedule looks like – there's no better time to join!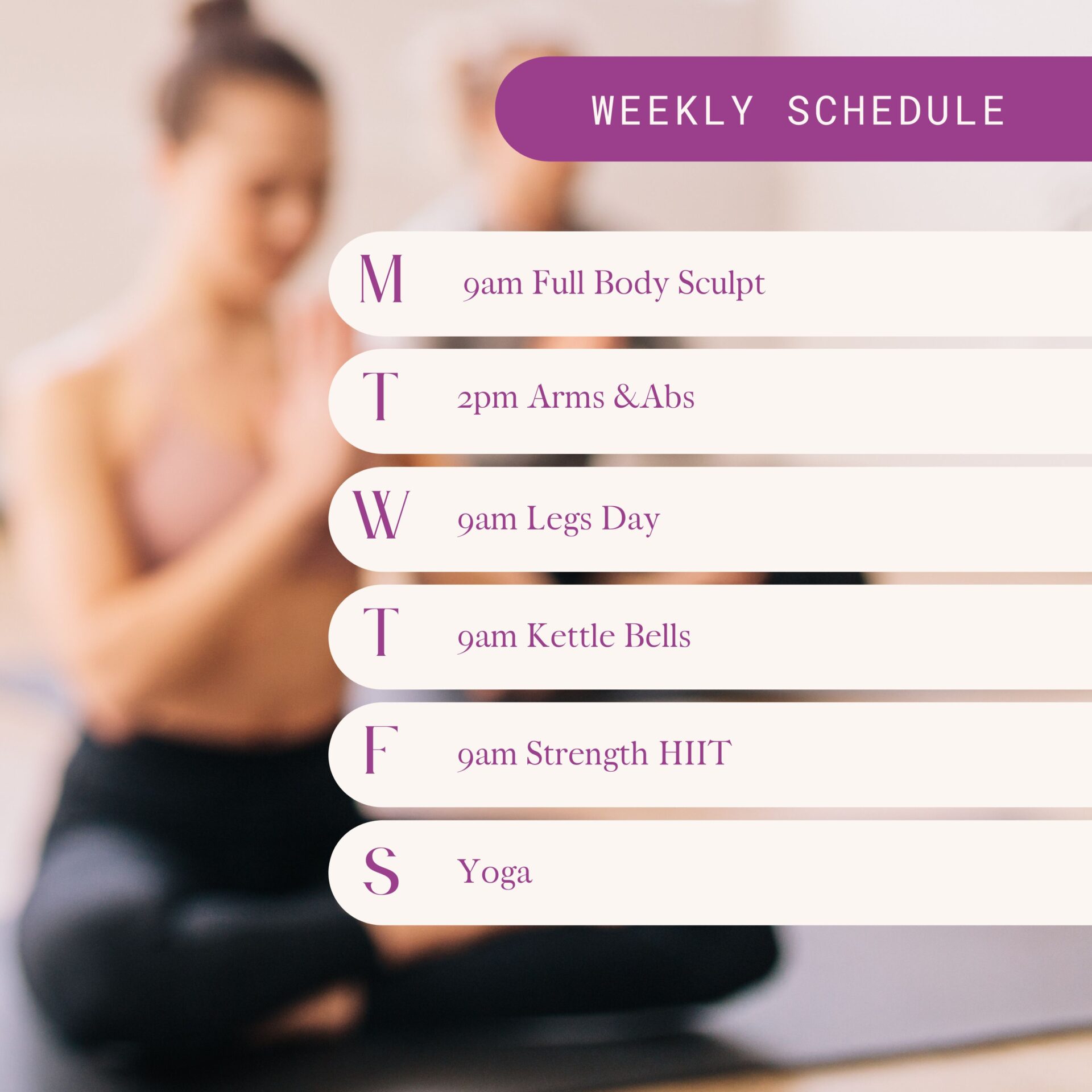 Caroline x